Killaloe has never entered a team into the community games rugby before so it was very exciting to be able to field a team, albeit a very young one. Only one of the boys currently plays U11 rugby, the rest play U10 & U9!
Round 1: Killaloe v Ennis St Johns – won 5 tries to 2 with 3 scores from Ciaran, and a try apiece for Gordy and Stephen
Semi final: Doora Barefield A v Killaloe – Doora Barefield were very strong and scored 4 tries in the first five minutes. (They were the overall winners on the day). The Killaloe boys never let their heads go down and battled hard for the rest of the game only conceding one more try before the final whistle blew.
3rd/4th playoff: Killaloe v Doora Barefield B – the team was determined to come away with a medal and they did! They tackled as if their lives depended on it and played some great rugby. Try scorers were Ciaran Rodgers (3), Gordon Wood (2), Shane Geraghty (1), Stephen Geraghty (1).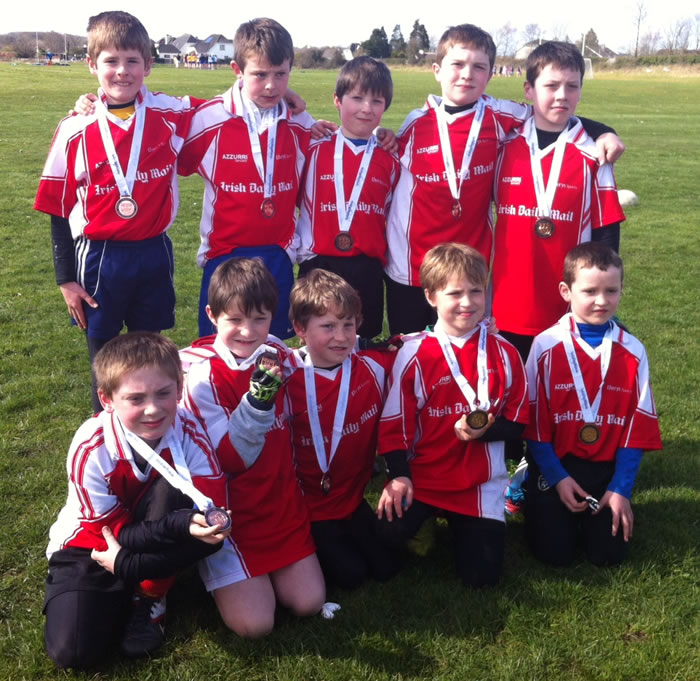 Team: Tony Foley, Ciaran Rodgers, Laurent Chateau, Stephen Geraghty, Shane Geraghty.
Front: Liam Daly, Alex Chateau, Aiden Foley, Gordon Wood, Diarmuid Coleman