On Sunday 23rd March the BKRFC U10s travelled to Rathuard in Limerick to play a blitz hosted by Presentation RFC, where they were also up against two UL Bohs teams and the East Clare Eagles from Tulla.
The Ballina Killaloe boys came out firing on all cylinders in the first game rucking the ball, tackling well, turning over the ball at almost every breakdown, eventually running in 7 tries against the first UL Bohs side who scored just one in reply.
The second game promised to be tougher with BKRFC falling behind by 4 tries to 2. In the last minutes of the game the boys rallied with some strong play towards the line. Oisin Pepper darted into the corner from short range. As full time approached almost exactly the same play unfolded and Oisin saw his chance again as the blindside was unmarked and he dived across the line to draw 4-all against the second UL Bohs team.
The 3rd and final match was against East Clare Eagles. Once again the boys played well winning the game with some lovely well-worked tries. It was a great morning with over half of the boys scoring tries, but a special mention must go to Shane Geraghty and Thomas O'Farrell for their tenacious tackling and strong running with the ball in hand.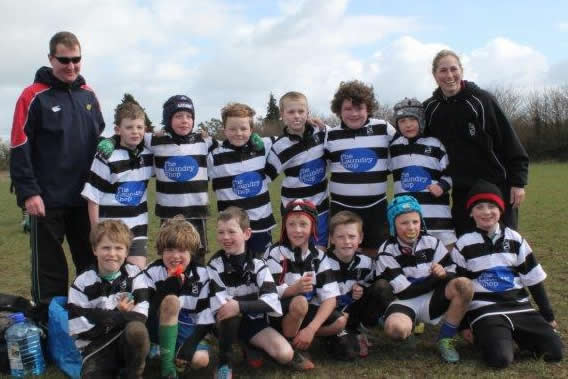 Standing: Pat Murnane, Oisin O'Reilly, Shane Geraghty, Cillian O'Connor, Ben Murnane, Ben McCarthy, Cathal Mullane, Nicola Wood Front row: Gordon Wood, Finn Harrold, Conor Neill, Cian Molloy, Oisin Pepper, Thomas O'Farrell, Liam Dal