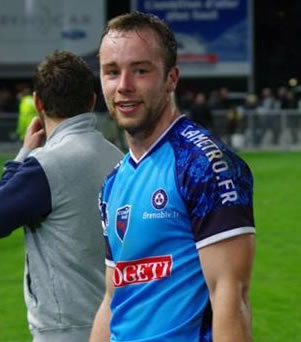 I caught up recently with Shane O'Leary, one of Ballina Killaloe RFC's "old boys", and now a member of the academy at Top 14 French Club FC Grenoble. Shane kindly took time out from his training schedule to answer a few questions about the biggest influences on his career, his experience at the 2013 Junior World Trophy (where he represented Canada and finished the tournament as top points scorer) and how he is handling the recent move to France:
Q. You represented Canada in the recent Junior World Cup in Chile. Could you tell us how that came about and what was the whole experience like?
To play for Canada in the Junior world Trophy was an incredible experience rugby wise and travelling wise. I got to see part of the US, Canada and South America. The standard of international rugby is great and the exposure was great too as I'm now in France. I'm eligible to play for Canada because Mum was born in New Brunswick. So, when I wasn't wanted for the Irish 20's I decided I wanted to play international rugby so contacted Rugby Canada's Mike Shelley who helped make it all possible.
Q. You joined French Top 14 side Grenoble at the start of this season. How have you found the move from both a cultural and rugby-style perspective?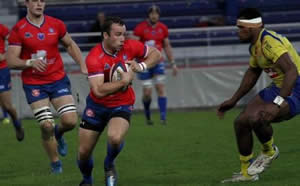 The move has its ups and downs. At the start I was very lonely after the first six weeks but now I have settled and I am really enjoying it. The rugby here is not as structured so as a 10 I found it difficult at the start because I couldn't understand everything the players around me wanted to do off the cuff but I have all the calls now so its all good.
Q. You've been selected in the 23 man squad to play rivals Bayonne in the Amlin Challenge Cup opening game. How does it rank with your achievements so far in rugby?
Obviously to have played 2 professional games since I've arrived is huge for me as well as hugely surprising for me. I had never thought that I would have played with the first team by this stage before I made the move here.
Q. Who has been the biggest influence on your career to date?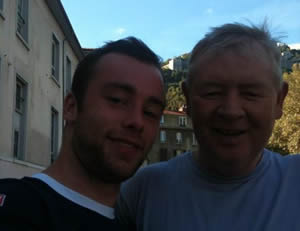 Without a doubt my dad has been the biggest influence on my career from coaching my teams as a young lad, to advice about the game and both my parents have been hugely supportive always with rugby. Giving me lifts to training before school when I was younger and driving me to Limerick 4 times a week when I was playing with Young Munster RFC and encouraging me.
Q. What are the biggest differences between the Irish, French and Canadian attitudes to training and rugby style?
The attitudes towards training for the Irish and Canadians are the exact same – work your ass off! In France it's a bit different in the sense that they are so relaxed. Of course they work hard too. The styles of play of the Irish and Canadians are more structured than the French who love to play what is in front of them
Q. The French Top 14 has a number of well known players from Celtic and English clubs. Who are you most looking forward to playing against?
I 'm looking forward to meeting Ronan O'Gara and Jonathan Sexton in early 2014 when Grenoble play Racing Metro at home.
Q. What advice would you have for any young rugby players looking to make a career out of the sport?
My advice for people would be that you have to work hard at whatever sport you play if you want to succeed. It won't always be easy and straight forward, but you have to believe in yourself and keep on trying.
Q. Are we likely to see you pull on the Canadian national jersey in the 2015 rugby world cup?
As of yet I havn't declared for Canada, but obviously that would be amazing if it was to happen. First game for Canada is against Ireland too!
Q. Who do you fancy for this year's Heineken and Amlin Challenge cups?
I think with the squad that Toulon gave this year it will be hard to stop them for the Heineken Cup and its too early to say for the Amlin. There will be some good team from the Heineken Cup in the later rounds.
Q. What are your thoughts on the possible demise of the Heineken Cup?
I can understand the different points of view but I'd hate to see it go. It's always been very exciting and it's the best club competition in the world!
Q. Being a devout Munster man, would you consider playing for any of the other Irish provinces? How much money would it take for Leinster to sign you? I hear they're short a decent fly half!
I'd consider any offer for me to play rugby back at home in Ireland but it would be a funny one having to pull on a Leinster jersey alright ha!ha!
Many thanks to Shane for taking the time to answer the questions. We wish him the very best of luck in what promises to be a long and successful career within professional rugby. Shane is a shining example to all young players within the Club and is testament to the adage that you get out what you put in. Well done Shane and best wishes on your continued success.