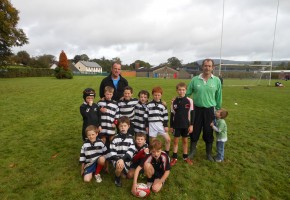 The Under 10s hosted a blitz which included teams from Bruff, St Mary's, Shannon and UL-Bohs. The host club fielded two teams, B-K Bulla and B-K Bears. The Bears defeated Bruff 4-3 in the opening match with Cian McCauley scoring one of the tries.
The second match was against Shannon where James Frahill scored a great individual try and there were also two fantastic tries by Ian Larkin. Ballina-Killaloe won this match 5-4. The third and last game against UL Bohs was a very exciting encounter, BKRFC went into an early lead with tries again from Ian Larkin, James Frahill and Cian Macaulay before UL Bohs staged a comeback to make the scores level at 3-3. In the last minute of play Callum Byrne picked the ball up on his own try line made a strong run to half way where he passed to Ian Larkin who finished the move off with great style right in the corner. This was to be the last play of the game so BKRFC came out winners 4-3.
The Bears Squad was Brian Cleary, Conor Hannon, Cathal O'Donnell,Cian McCcauley, Eoin Heffernan, Stephen Geraghty, James Frahill, Luke Graham, Callum Byrne, and Ian Larkin. The Bulls started their day out with a close fought battle against St Mary's with B-K RFC coming out on top 5-4 in the end. They then faced Shannon where once again it was a tightly contested match with the honours shared 3-3 in the end. The final match was an epic against Buff with the home side winning out with a last minute try from Adam Fogarty.ayed their first ever rugby match with Adam Fogarty in particular shining.
Other rugby newbies who impressed on the day were David Coughlan, Bennett Freeman, Eoin Heffernan and Joe McGrath.
The Bulls squad was : Jim Sutton, Eoin Gilmartin, Patrick Ryan, Daniel Tighe, Oran Keenihan, Danny O'Connor, Adam Fogarty, Joe McGrath, David Coughlan, Cian Donnelly and Bennett Freeman.