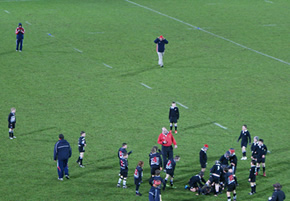 Ballina Killaloe RFC U11s side were invited to play a match at half time against Thurles in Munster's St Stephen's Day Magners League derby game against Connacht at Thomond Park.
Our lads capped a fantastic evening with a hard fought 2-0 win, with two wonderfully taken tries by Jack O'Mahony.
This was a once in a lifetime experience and the occasion will live long in the memories of all players involved.
Many thanks to all the U11s coaches for organising this wonderful event – Niall Tuite, Ger O'Mahony, Joe Gilmartin, David Dalton & Jonathan Walsh.
Take a look at some pictures of this unforgettable evening, kindly provided by Stephen McKeogh: